Course details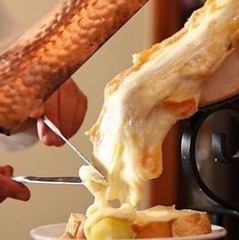 Topical cheeses and luxuries ★ Raclette cheese course 3500 yen (tax included) 【+ 1800 yen with 2H drinking attachment ♪】
By using a coupon3500 yen
(tax included)
5items

2

-

20persons

All-you-can-drink available

【You can drink all you can at +1800 yen!】 More ... 【+ 500 yen】 with all you can drink premium ♪ · Heartland draft beer · Sparkling wine · Today's recommended local sake · Sangria also order OK !! 120 minutes (LO 15 minutes Previous)
Overwhelming performance! Winner of Golden Award from Belgium ♪ This is a raclette cheese course which melts Rakurott cheese in Trotoro and plants plenty of vegetables directly from contract farmers.Quiche of raw ham and mozzarella cheese, salted sausage of raclette cheese, three kinds of cheese pizza, finally home-made tiramisu! It is perfect for girls' party, anniversary, mama society! Because it is a popular course, reservation is early! !
Course menu
☆ * · ° ° ---------------------------------------
Popular with women ♪ Topical "rough rose" raclette cheese
Warm the surface of raclette cheese in a private oven,
Sausages and vegetables etc.
Enjoy it with plenty of Azazu's dishes ♪
---------------------------------------------:: * * ☆
◇ Toasted chest with wine glass ◇
◆ Assorted organic vegetables using raclette cheese
Use vegetables purchased from the contract farm ♪
◆ Quiche of raw ham and mozzarella cheese
Popular with women ♪
◆ Rakuto cheese sausage serving (with bread)
Rakuto cheese which is difficult to obtain even this still ♪
◆ Three kinds of cheese pizza (changeable to seafood pizza at + 200 yen)
The fragrance of crisp melts and spices does not accumulate ♪
◆ homemade tiramisu
Chiro's popular sweets.
It is all handmade at a shop from the beginning.
Adhere to using Mascarpone & smooth exquisite mouthpiece
The fragrance of espresso stands out.
Recommended for people who do not like sweet things ★
All-you-can-drink menu
·beer
· Bottled beer
·wine
·Red and white
·Cocktail
· Gin tonic · Jimbach · Gin Ricky · Vodka · tonic · Moscommeure · cassis orange · cassis grapefruit · cassis soda · cassis oolong · fuzzy nee · peach fizz · peach oolong · screwdriver · orange blossom · kalua milk · kalua milk mocha · souldy dog · keel ·
· Smirnoff cocktail
· Smirnoff Lemonade · Smirnoff Grape · Smirnoff Grapefruit
· Shochu
· Potato / Phantom dew ★ Rock · Water split · Hot water split
·Highball
· White Horse Highball
·sour
· Oolong High · Lemon Sour · Collagen Rose Hip Sour / White Grape Sour
·Soft drink
· Cola · Ginger ale · Grapefruit juice 100% · Orange juice 100% · Coffee · Original organic tea (ice) · Espresso
Reservation deadline

Two days before 22 o'clock before the desired store date
Available days for reservation

Monday · Wednesday · Sunday · Holiday before holidays · Holidays
Coupons that can be used with this course
2019/01/11 update